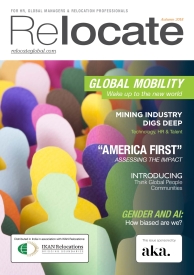 Autumn issue 2018
The autumn conference issue of Relocate Magazine focuses on the evolving role of global mobility. In addition we take a look at post-Brexit trade partners, gender in AI and put President Trumps "America First" agenda in the spotlight.
Read IKAN's article about recent changes to same-sex laws in India, here.
Let us know if you have ideas for features, surveys or events, and keep us informed of your company's news by emailing our managing editor Fiona Murchie. For advertising, please contact Jane Whitton, Senior Sales Manager by emailing jane.whitton@relocatemagazine.com.
Learn more about all aspects of life in India
IKAN Relocation is a country partner with Relocate Global and provides us with up-to-the-minute expert articles about all things to do with employment and life in India, including HR, immigration, and cultural news. Access IKAN's articles from Relocate Global's India homepage. 
A night of celebration at our annual Relocate Awards Gala Dinner
The 2018 Relocate Gala Awards Dinner attracted over 200 guests to the Underglobe at Shakespeare's Globe Theatre, London to celebrate this year's best performances in HR and global mobility.
Special congratulations to IKAN Relocations who were highly commended in the 'Destination Services Provider of the Year – Rest of the World & Global' category. 
Find out who our proud winners were, and view photographs and videos of the evening.

You can keep up-to-date with trends and insights across global mobility from immigration, tax and policy to employee and family support including finding accommodation and schools and cultural awareness via the relocateglobal.com website.
We hope you enjoy this latest issue of Relocate magazine brought to you in India by IKAN Relocations.
Copyright Relocate Global