Hays 2018 'What Workers Want' report on recruitment
The Hays What Workers Want Report 2018 shows the differences in perspective between employers and applicants on the application process and why it is important to get the process right.
In their What Workers Want Report Hays have analysed over 14,600 responses, to identify the key factors that determine success at each stage of the applicant journey (search, apply, decide and join), and looking at what applicants believe to be the roadblocks throughout. The report revealed a mismatch between the two-thirds of employers who say they provide candidates with a 'positive experience across the applicant process', against the lesser 55% of applicants who agree with this rating.Almost half of employees say they have left a job within the first 12 months as a result of mismatched expectations during the interview process.
Key Lessons of the report
Employers must be transparent, authentic and give the full picture
One in two people won't apply unless they can find information on the issues such as how the employer will invest in their personal development, commitments to diversity, a reputable brand and a strong Employee Value Proposition (EVP). The onus is on employers who want to retain staff to maintain a strong application process as almost half of professionals surveyed say they have left at least one new job within the first 12 months becuase it didn't match the expectations formed during the application.The most important consideration for 63% of applicants is the people and culture of an organisation, and candidates are prepared to perform extensive research to find out about this, including reading employee reviews (55%).
Candidates will only consider applying to organisations that: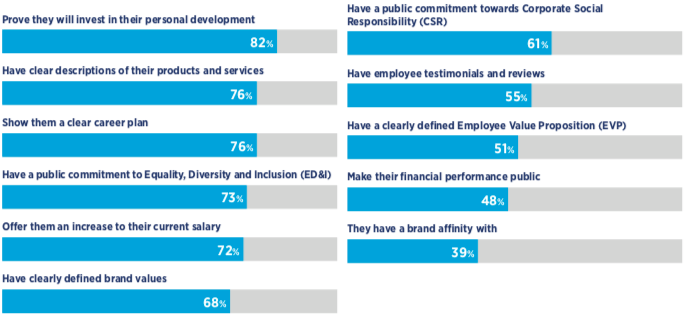 ---
---
An efficient job application process
Applicants are deterred by lengthy and inefficient processes and delays in communication. Cumulatively, nearly three quarters say they would abandon their online application if it took more than 15 minutes to complete, but 40% of employers say their process takes longer than this.In addition 57% of candidates say it is important to hear confirmation of moving to the interview stage from employers within a week of submitting an application, however just over a third of employers say their proces takes over a week.
Personalised communication and functionality
Applicants are more likely to apply for a role if the process is easy and provides personalised functionality and communication. For example, when applying online, applicants expect to be able to start and stop their application (80%), edit and submit a CV easily (41%) and then following a successful application to a job, over 69% consider it important to have a contact person during the rest of the application journey.While many employers (41%) are aware they offer a neutral to poor application experience via their career websites; for example, most (54%) are still not prioritising improved functionality as part of their candidate attraction plans.
To feel welcomed
Finally, the human element is still so important. Applicants are judging all aspects of the journey and an unwelcoming first impression can be detrimental, as previously mentioned. First impressions include the way applicants are greeted when they enter the office, all the way through to the on-boarding process. For example, of those who have been deterred from a negative first impression, 64% say it was because of an unwelcoming internal environment and 44% say it was unwelcoming staff that put them off.In addition, 76% of applicants want to see the physical space they'll be working in before accepting a role. 
The Hays report identified 5 key recommendations for employers
Speed up the process
Invest in the online experience of the applicants
Create a structured interview process
Make employee reviews part of your attraction strategy
Test your journey
---
Click the link to learn more and read the Hays What Workers Want Report 2018.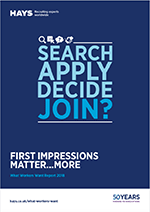 ©2022 Re:locate magazine, published by Profile Locations, Spray Hill, Hastings Road, Lamberhurst, Kent TN3 8JB. All rights reserved. This publication (or any part thereof) may not be reproduced in any form without the prior written permission of Profile Locations. Profile Locations accepts no liability for the accuracy of the contents or any opinions expressed herein.