Expat Insider City Ranking 2018: The best and worst cities for expats in 2018
Asian newcomers Taipei and Singapore manage to relegate the 2017 winner, Manama, to third place in InterNation's Expat Insider City Ranking 2018 which canvassed over 18,000 expatriates worldwide.
More than 18,000 expatriates, representing 178 nationalities and living in almost 190 countries were interviewed for
InterNation
's wide-ranging 2018
Expat Insider
survey.
Top three locations for expats worldwide
Taipei (1st), Singapore (2nd), and Manama (3rd) top the list of the 2018 rankings, largely due to how easy expats find it to settle in to life in these cities. This might be related to the friendliness of the local population and the personal safety in the cities. In fact, Taipei is rated the world's friendliest city by expats, with 94 percent finding the local residents friendly. "People here are so friendly and always want to help," shares an expat from the Netherlands. The majority of expats in Manama (87 per cent) also agrees that there is a friendly attitude toward foreign residents in the city, compared to 62 percent globally. Personal safety is one of the biggest perks of expat life in Singapore with 88 percent interviewed feeling completely safe in the city (vs. 48 per cent globally). "It is easy for everyone to enjoy life here without worrying about safety," shares an expat from India.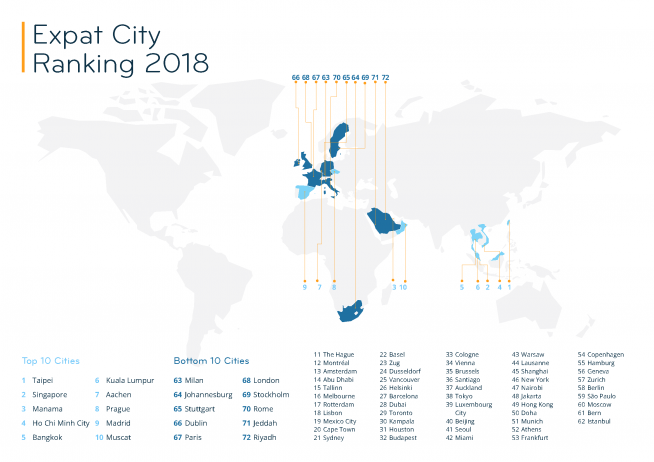 Riyadh, Jeddah, and Rome rank at the bottom of the list. While all three cities receive low ratings across the board, they seem to be particularly disappointing in terms of urban work life: close to three in five expats in Rome a re dissatisfied with the local career opportunities. An Albanian expat states that "career opportunities are non-existent". Meanwhile, Jeddah and Riyadh are rated the two worst cities in the world for work-life balance.
Expats have higher incomes in London, but feel more welcome in Dublin
Placing 66th and 68th, respectively, out of 72 cities worldwide, both Dublin and London perform poorly in the Expat City Ranking 2018. The capitals fail to win over expats in terms of affordability and cost of living, but the similarities stop there: expats in London believe that they earn more than in a similar position back home, while those in Dublin find it easy to make new friends, as the so-far unpublished Expat City Ranking 2018 reveals. 
London has an abundance of leisure options, but expats lack the time and money to enjoy them
London ranks amongst the five worst cities for expats in the world (68th out of 72), only ahead of Stockholm, Rome, Jeddah, and Riyadh. Similar to Dublin, London receives its worst ratings with regard to finance & housing as well as the local cost of living. London's local cost of living is rated just slightly better than the affordability of housing, while the opposite is true in Dublin. A Spanish expat living in London explains that there is an "extremely high cost of living compared to local salaries".Nearly nine in ten respondents find housing in London unaffordable, which is almost double the global average. Moreover, more than three-quarters rate the local cost of living negatively, compared to less than two in five globally. Despite the fact that 57 percent of expats think they earn more in London than they would in a similar position back home (vs. 53% globally), only two out of three (67%) say their disposable household income is more enough to cover their daily expenses (vs. 78% globally). A Spanish expat explains that there are "so many things to do but the price of things is really hard".In fact, over four in five expats living in London are satisfied with the local leisure options. However, expats do not seem to have many opportunities to enjoy London's leisure activities as just over half rate their work-life balance positively. While expats may have to work long hours, London does provide favourable career opportunities (9th worldwide) and more than two-thirds of respondents rate these positively. Almost half of respondents say it is not easy to make local friends in London. A French expat mentions that there are "no real opportunities to make friends with local people". What is more, a mere 53 percent of expats in London rate the general friendliness of the local residents positively Perhaps this is why barely half the respondents are satisfied with their social life in London, versus 57 percent both in Dublin and globally.
Compare the 2017 and 2018 rankings
Expats in Dublin have great career prospects but struggle with the high cost of living
Coming in 66th place out of 72 destinations worldwide in the Expat City Ranking 2018, Dublin ranks particularly low for quality of urban living, local cost of living, as well as finance & housing. In fact, nine in ten expats living in Dublin say that local housing is not affordable — three in five even give this factor the worst possible rating. A Portuguese expat explains that "there are simply not enough houses for everyone and the ones that exist have skyrocketing prices". Aside from housing, 70 percent of expats in Dublin are also unhappy with the local cost of living, compared to 37 percent of expats across all cities featured in the ranking. It is hardly a surprise that just 36 percent say their disposable household income is more than enough to cover their daily expenses, compared to more than half of all expats globally.The local population in Dublin seems to succeed at making expats feel welcome as almost two-thirds  feel at home in the city. Expats appreciate the general friendliness of the local residents as 78 percent rate this favorably, compared to just 62 percent globally. A Ukrainian expat singles out the "very positive and friendly people." Perhaps this is why more than half the respondents find making local friends in Dublin easy.Over seven in ten expats rate the local career opportunities in Dublin favourably, which is eight percentage points more than the share of expats rating their career prospects positively across all of Ireland. Dublin even ranks third worldwide for this factor, only beaten by Prague and Houston. A Hungarian expat enjoys the "good economy and job opportunities" in the Irish capital. Dublin also does quite well for working hours as more than seven in ten rate this factor positively. Ranking 28th for work-life balance, Dublin beats London (which ranks 61st out of 72) in this subcategory.For more detailed information about how each city and country ranks, read InterNation's complete  
2018 Expat Insider survey
.
Global talent mobility: the missing link in expat support
The
Expat Insider 2018 Business Edition
focuses specifically on foreign assignees, international hires and relocating spouses.In response to the report which highlights the considerable gap in the social integration of global employees and the need for additional support for international hires and relocating spouses InterNations Business solutions was launched in October. This division aims to provide B2B solutions for global employers to improve the success of international assignments and to boost the appeal of their employer brand to support international talent recruitment and retention.
---
Relocate's new Global Mobility Toolkit provides free information, practical advice and support for HR, global mobility managers and global teams operating overseas.
Access hundreds of global services and suppliers in our Online Directory
©2019 Re:locate magazine, published by Profile Locations, Spray Hill, Hastings Road, Lamberhurst, Kent TN3 8JB. All rights reserved. This publication (or any part thereof) may not be reproduced in any form without the prior written permission of Profile Locations. Profile Locations accepts no liability for the accuracy of the contents or any opinions expressed herein.