Education and schools in Brunei
The tiny nation of Brunei, is one of the world's wealthiest countries. Relocating families will discover a country with one of the highest standards of living in the world, and some excellent schooling options.
 Despite its small size, Brunei Darussalam is the fifth-wealthiest country in the world, owing to the vast oil wealth that has fuelled its economy for more than 85 years.
Brunei's economic background
The revenue from oil and gas (which account for 90 per cent of Brunei's exports) has produced a standard of living second to none. The country's citizens pay no taxes and receive free healthcare, subsidised housing, and free education through to university level.The expatriate community, many members of which are employed in the oil and gas industry, make up a quarter of Brunei's 425,000 inhabitants.However, the country is facing an uncertain future. With oil prices plummeting and Brunei's oil reserves projected to run out in just over 20 years, reliance on this revenue is beginning to put strain on the economy.
The government's development plan,
Brunei Vision 2035
, sets out its focus on reducing dependence on oil and gas revenue. One of its key priorities is education; currently, only 20 per cent of Bruneian school pupils go on to further education, a figure that is significantly below the levels of other Southeast Asian countries. With a third of the population under the age of 19, the government is channelling funding into the sector to address this.
The value of UK education
The UK has long-standing ties with Brunei, a former British protectorate, and British influences on many aspects of Bruneian life remain.A high value is placed on UK education, and the number of English-medium international schools has grown, in response to demand from expatriates and locals alike.
ISC Research
, which provides data on English-medium international schools around the world, lists eight schools in Brunei, half of which are located in the capital, Bandar Seri Begawan. These schools teach nearly 6,500 students between them, and, as might be expected, 75 per cent teach the English National Curriculum. However, the International Baccalaureate (IB) has also gained in popularity.
Jerudong International School
(JIS), located about 20 minutes outside Bandar Seri Begawan, has the largest international-school campus in the world. Its 1,700 students are a relatively even mix of locals and (mainly British) expatriates. The school provides a British-style education (GCSE, IGCSE and A Level) but also offers the IB Diploma.JIS is a licensed
Duke of Edinburgh's International Award
provider. Visiting the school in October 2017, the award's chairman of trustees, HRH the Earl of Wessex, commented on its "fantastic facilities".
---
Related articles from the APAC education guide:
---
Principal Barnaby Sandow believes that JIS's close relationship with employers in the oil and gas industry helps to smooth the path for students when they arrive at the school. "We work very closely with Total and Shell, and the relocation services, to ease the children's transition into our school," he says. "We are a very big part of the reason why people would choose to come to Brunei; we offer a fantastic education that opens doors for children that they wouldn't have in other parts of the world."JIS has invested heavily in its infrastructure over the years. Of STEM teaching, Mr Sandow, himself a physics teacher, says, "I've never had the toys to play with that I have at JIS! The first-class laboratory facilities mean that the experiments we can do are sensational, and it is therefore the easiest thing in the world to bring the science to life."Another popular choice is the well-established
International School Brunei
(ISB), which caters for children from the ages of three to 18 and has just over 1,400 students. A new eco-friendly multimillion-dollar campus was opened in 2015. ISB is the only Green Mark-certified school in Borneo, showing its commitment to the environment.ISB follows the English National Curriculum, culminating in the IGCSE at age 16. Post-16 pupils study the IB Diploma.
Other international schools
Hornbill is a primary school in Seria, near the British Garrison, which caters for Nepali children of Gurkha soldiers and children of British military personnel. It follows the English National Curriculum and has 320 children.
Seri Mulia Sarjana International School
was established to cater for the growing number of expatriate families in Brunei. With over 600 students, it is a primary school that offers the Cambridge Primary Programme. 
---
The APAC Guide to Education & Schools is designed to help relocating parents make informed education choices.
Employers: Access the free digital guide here.
Relocation professionals: Access the free digital guide here. 
Parents: Access the free digital guide here.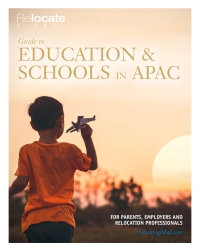 APAC Education Guide 2017
 For volume options, co-branded editions, digital or online licence agreements and advertising opportunities call Ali Pettitt on +44 (0)1892 891334 or email 
ali@relocatemagazine.com
For related news and features, visit our Education & Schools section.Access hundreds of global services and suppliers in our Online Directory
Get access to our free Global Mobility Toolkit
© 2017. This article first appeared in the 2017 edition of the Guide to APAC Education & Schools, published by Profile Locations, Spray Hill, Hastings Road, Lamberhurst, Kent TN3 8JB. All rights reserved. This publication (or any part thereof) may not be reproduced in any form without the prior written permission of Profile Locations. Profile Locations accepts no liability for the accuracy of the contents or any opinions expressed herein.