Supporting relocating families in the APAC region
An international relocation can be a daunting experience, but schools in Asia are well placed to offer support and advice to aid families in quickly finding their feet.
 International schools are usually very good at welcoming children from multiple nationalities and helping them to retain their cultural identity as well as their native language skills.We asked a number of schools what, in their view, develops 'international-mindedness' in their pupils and what support they offer to assist families in settling into their new location.Executive principal of the
International School of Brunei
, Dr Steven Geraghty, set the context, which is typical of many international schools in APAC, "We have 46 different nationalities here in the student body and within the staff 16 different countries are represented.The secret of retaining an international outlook is not the nationalities but the formulation of tolerance whatever your background."As an open access school, we have a wide variety of needs and personalities; promoting patience and understanding is the foundation of recognising and accepting difference and that is at the heart of international mindedness."
Admissions flexibility
From an employer's perspective as well as for parents, it is reassuring to know that admissions departments appreciate that business drivers may necessitate the need to find school places at short notice.Lea Thurman, director of admissions at the
Australian International School (AIS) in Singapore
explains how the school aims to meet the needs of relocating families, "Parents who send their children to international schools are looking for flexibility on start dates as they often move to a country part-way through a school year.At
AIS
families can enrol at any time during the school year so parents need not worry about coinciding their move date with the beginning of a school term."Often parents only stay in a country for a few years before moving on, so they are interested in curriculums such as the internationally recognised IB, which offers a seamless transition to other countries.At AIS we offer a choice between the IB, or the Australian curriculum, the latter is favoured by Australian families who intend to return to their home country following a period overseas."Relocating parents and their employers should consider the flexibility of prospective schools and ensure that they have their child's school records to hand.
---
Related APAC guide articles:
---
The impact of mobility on children
International schools and their staff have typically built up many years of experience in welcoming new children. They are able to offer a wealth of advice to anxious employers, parents and children.Words of reassurance come from Dr Geraghty, "Young people are resilient but they may buck against a move abroad because they are also innately conservative with regard to friendship groupings."However, with the right school environment, relocation to another culture can be such an enriching experience in so many ways: language acquisition, academic variety, independent travel and many cultural experiences they could never have in a typical national environment."If a family is regularly relocated, then the right school is doubly important as some of the novelty reasons for moving countries will not apply and children will doubtless be looking for a school as similar to the one they have just left as possible."
Concordia, an international school in Shanghai
teaching the American curriculum, has accommodated relocating families for nearly 20 years."The impact of mobility upon a child can be of varying degrees depending on the personality of the child. There is a sense of resiliency and "grit" that students develop when they are faced with difficult situations and overcome them," explains Amanda Abel, middle school guidance counsellor."Parents should keep the end in mind. Seek a place where service learning or service for others is common DNA of the school. Find a school that values the parents in the partnership to help support the child."A child will grow in their cross-cultural understanding, and confidence that they can make a difference in the world. Partnership, growth mindsets, and a love for the nations will help a child navigate successfully through the transitions."There are practical approaches too she explains, "In our Social Emotional Literacy Curriculum, lessons are taught which deal with the concept of the Third Culture Kid. We identify the strengths and challenges for our students as they live overseas, away from their passport cultures."Teachers will integrate children into small group settings while highlighting and embracing the diversity. The small group experience in the day provides our students with a safe place of belonging, which better equips them for the academic rigour of the day."
The parents view
Joanne O'Connor, an Australian parent of two children at
3e International School in Beijing
described the benefits of children studying at international schools in China."Children today are growing up in a complex, global society, where cross-cultural interaction and understanding are far more prominent and necessary in the education process than they have ever been."As China continues to grow both in population and as a Global leader, the importance of understanding Chinese culture and learning the Chinese language also increases. International Schools in China are providing students with educations incorporating both Western and Chinese academic and cultural understanding, to ensure students attain a well rounded global education."3e International School, in Beijing, provides a good example of this balance. Students are immersed daily in half day English and half day Chinese, allowing children the opportunity to actively practice and develop their new language."Outside of school, Beijing also provides a wealth of historical and cultural learning and social interactions that supplement classroom experiences. Children studying at International Schools in China are provided with an amazing childhood experience, with the ability to move fluidly across cultures, and a lifetime of benefits and opportunities."
---
Related articles from the Relocate website:
---
Overcoming the challenges involved in a school transition
The challenges involved in settling families can, of course, vary across the region. Schools can be invaluable sources of support, not only for children but also for parents.
Hong Kong International School's
Family Ambassador programme is one example. Explains director of admissions, Vicky Seehafer, "New families are assigned a parent who has a child or children in the same age range, to aid them in transitioning into the school community and the community at large."Brian Christian,
Principal of The British School in Tokyo
(BST), whose school is well practised in transitioning new children and families, spoke about the challenges involved in relocating to Japan, "The school prides itself on being genuinely a community school. Japan and Tokyo particularly, can be quite a daunting place to come to. It's a mega city. It's very different from most of the rest of Asia, so parents, particularly those with very young children, are often wary of coming here for the first time."We buddy up prospective parents with people who have already made the transition, know what to look for and what the pitfalls are, so that even in the period before they arrive they are able to talk to another parent who has been through the same experience."
Keeping communication lines open
Good parent and teacher communication is vital in ensuring that a child flourishes at their new school.Harriet Powell, Year 5 Leader at
The Alice Smith School
in Kuala Lumpur explains that all communication is about putting the child first, "Emails between parents and teachers are now frequently the first rung of communication about individual matters. However, it is the face-to-face interaction during Parent Teacher Conferences, which still serves as the most valuable method. Impromptu meetings serve the same purpose as it is within this forum that parents can feel they are being heard on a personal level," she explains."Establishing a climate of trust between parents and teachers is essential. By keeping a continuous dialogue going, there is a stronger possibility of understanding if there are any potential problems and consequently discovering solutions. In other words, teamwork between parents and teachers can help create positive results, whereas a lack of openness can often compound a problem".Placing a high value on students having a voice is now integral to the fabric of most schools. However, Ms Powell went further, "Giving students a platform on which to voice their opinions provides the crucial third side to the triangle of dialogue between the three parties, helping the children to develop an imaginative, thoughtful and confident voice."
---
The APAC Guide to Education & Schools is designed to help relocating parents make informed education choices.
Employers: Access the free digital guide here.
Relocation professionals: Access the free digital guide here. 
Parents: Access the free digital guide here.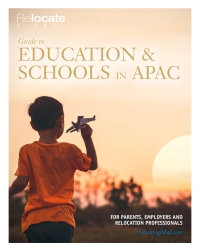 APAC Education Guide 2017
 For volume options, co-branded editions, digital or online licence agreements and advertising opportunities call Ali Pettitt on +44 (0)1892 891334 or email 
ali@relocatemagazine.com
---
For related news and features, visit our Education & Schools section.Access hundreds of global services and suppliers in our Online Directory
Get access to our free Global Mobility Toolkit
© 2017. This article first appeared in the 2017 edition of the Guide to APAC Education & Schools, published by Profile Locations, Spray Hill, Hastings Road, Lamberhurst, Kent TN3 8JB. All rights reserved. This publication (or any part thereof) may not be reproduced in any form without the prior written permission of Profile Locations. Profile Locations accepts no liability for the accuracy of the contents or any opinions expressed herein.