The international schools market in Asia
Asia is a booming marketplace for global companies, as international schools in the region rapidly expand, we look at what is driving this demand and find out what makes a successful school.
 The number of international schools in
Asia
is growing at a rapid pace. A report from ISC Research – who provide data and research on the world's international schools market – shows that the number of international schools in East Asia has grown by 32 per cent in four years. In Southeast Asia this figure rises to 39 per cent.This continued growth underscores the region's quest to match, and even exceed, the rest of the world. In terms of the number of new schools and students enrolling,
China
 continues to dominate the whole of the region but
Japan
,
Hong Kong
, Thailand and
Malaysia
have also seen significant growth.
A growing economy
According to the
IMF
, Asia is the fastest growing economic region as well as the largest continental economy in the world. The region therefore remains an important target for companies seeking to expand globally.Nearly 60 per cent of the world's population lives in Asia and the population is rapidly rising. Very soon Asia will not just be the biggest global producer of goods and services; it will also be the largest global consumer.
The rise in school numbers is largely due to local demand for high-quality education from the rising middle classes who have strong aspirations for their children.Quality education is viewed as a passport to the best universities and career prospects and this is producing a talent pipeline of highly educated and driven young people.
---
Related stories from the APAC Education Guide:
---
The importance of innovation
With the trend towards localisation, the growth of a wider selection of schools for relocating families moving to the region offers more choice and often more affordable fees but the sheer volume can be overwhelming.In a competitive market place, schools are seeking to stand out from the crowd. Innovation is proving to be a key trait of successful schools.John Ridley, director of learning at Tanglin Trust School in Singapore explains how the school seeks to remain relevant – a recent initiative saw the school launching a mother-tongue programme in order to help students to keep in touch with their cultural roots within an expatriate setting."The programme facilitates tuition for native speakers of a wider range of languages. The response from parents has been very positive and we have a network of parent volunteers who are keen to represent their language and culture within the school community," he said.Whilst an international move is understandably unsettling for children, education experts suggest that the international-mindedness and cultural agility that naturally follow a successful global relocation and international education can help to develop the skills required to bridge this gap.Christopher Schuster, high-school principal of
Concordia, an international private Christian school
 in Shanghai's Pudong district believes that this puts students at a distinct advantage."International students often use their ability to understand complex systems and heightened sense of empathy to fuel passions centred on global development and social entrepreneurship," he explained. "They believe that they can, simultaneously, be successful and make the world a better place, because their educational experiences have exposed them to countless examples of amazing people doing those very things."Dr Steven Geraghty, executive principal of
International School Brunei
agrees, "With the right school environment, relocation to another culture can be such an enriching experience in so many ways: language acquisition, academic variety, independent travel. If a family is a regular re-locator, then the right school is doubly important as some of the novelty reasons for moving countries will not apply."
Choosing a curriculum
One of the most popular options for families when relocating with children is to find a place at an international school teaching either the curriculum of their home country or an international curriculum, such as the
International Baccalaureate (IB)
, owing to the ease of transition and international transferability of the learning programmes offered. In Asia there is a wealth of choice.The demand for high-quality British education has never been greater and has seen the launch of a number of UK boarding schools in the region in recent years.
Dulwich College
,
Harrow School
and
Wellington College
all have schools in China,
Shrewsbury School
has campuses in Bangkok and Hong Kong and more recently
Malvern College
announced its plans to open a campus in Hong Kong in September 2018, catering mainly for expatriates.As world-class UK independent schools continue expanding into Asia, globally mobile families are in a strong position to take advantage of a British international education wherever their destination.
---
Related articles from the Relocate website:
---
At the
International Private Schools Education Forum (IPSEF)
in Malaysia earlier this year, deputy head of mission at the British High Commission in Malaysia, Paul Rennie, spoke of the perceived value of a UK education in Asia."One of the greatest challenges faced by schools today is to equip children with knowledge and skills that are relevant to future jobs, many of which don't even exist currently," he said. The UK education model is great, because it offers the best of tradition as well as modernity. This is why there is an increasing demand for UK schools and colleges in Malaysia."With the demand for international schools in APAC only set to increase, successful schools will need to innovate in order to remain relevant in the constantly changing global environment. With the wealth of choice on offer, expatriate families should ensure that they check the credentials of potential schools in addition to exploring the (often exceptional) facilities and quality of education.This is where accreditations and membership of bodies like the
Council of British International Schools
(COBIS) and the
Council of International Schools
(COIS) will provide an assurance of quality.
---
The APAC Guide to Education & Schools is designed to help relocating parents make informed education choices.
Employers: Access the free digital guide here.
Relocation professionals: Access the free digital guide here. 
Parents: Access the free digital guide here.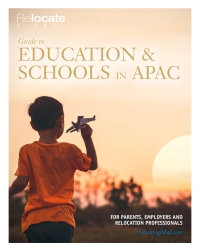 APAC Education Guide 2017
 For volume options, co-branded editions, digital or online licence agreements and advertising opportunities call Ali Pettitt on +44 (0)1892 891334 or email 
ali@relocatemagazine.com
---
For related news and features, visit our Education & Schools section.Access hundreds of global services and suppliers in our Online Directory
Get access to our free Global Mobility Toolkit
© 2017. This article first appeared in the 2017 edition of the Guide to APAC Education & Schools, published by Profile Locations, Spray Hill, Hastings Road, Lamberhurst, Kent TN3 8JB. All rights reserved. This publication (or any part thereof) may not be reproduced in any form without the prior written permission of Profile Locations. Profile Locations accepts no liability for the accuracy of the contents or any opinions expressed herein.