Dulwich College International – one college, many campuses
Membership of a pan-Asia family of schools enables each Dulwich College International School to offer a range of academic, cultural, sporting and enrichment opportunities, says director Marc Morris.
 If your career takes you to
Asia
, one of your primary concerns is the quality of international education available.
Dulwich College International
was founded in
China
in partnership with Dulwich College, a leading independent school in the
UK
with a 400-year history of innovation and academic excellence.Since Dulwich College Shanghai opened its doors to just 26 students in 2003, enrolment at Dulwich College International has grown to 8,000 students hailing from more than 60 countries. The group now comprises of ten schools in seven cities across Asia: Beijing, Seoul, Shanghai, Zhuhai, Suzhou, Yangon and Singapore.Each school offers the best in international education, with academically rigorous curricula balanced with rich opportunities for students to engage in the arts, sports and community service. Our students consistently achieve academic results that place them among the worlds best and gain them entry to leading universities and art institutions around the world. 
---
Related articles from our education guides:
---
A network of international opportunities
Our growth is surely a sign of our success, but what matters is how we use it.As a network, our schools leverage their talent and resources to develop unique academic programmes, organise events and workshops, and forge relationships that expose our students and staff to a rich and varied choice of experiences that individual schools could not offer on their own.
Mandarin and STEAM:
 The DCI group has devoted significant resources to the development of its bespoke Mandarin and
STEAM
(science, technology, engineering, the arts and mathematics) programmes, designed to provide our students with skills and experiences so crucial to their future.The Wo Hui Mandarin curriculum addresses the unique challenges of learning to speak, read and write this complex and wonderful language, and our students are reaping the benefits. Investment in flexible STEAM spaces at our schools and creative solutions for integrating STEAM into the curriculum let our students combine imagination and entrepreneurial drive with scientific and artistic skills.
Experiences in the Arts and Sports:
 By virtue of our group's relationships with leading educational and artistic institutions, Dulwich College International students perform soliloquies under the tutelage of professional theatre companies from the UK, sing with the Vienna Boys' Choir, perform with talented students from the Royal Northern College of Music, and work with the innovative musicians from the Berklee College of Music, in Boston.They take an active part in group sporting, artistic, intellectual and leadership events, such as the Diversity series of performing arts workshops, the Dulwich Festival of Music, the Science and Art Photo Competition, the Shakespeare Festival, the Mike Gatting Cricket Festival, the Shackleton Lectures, and the Student Leadership Conference.
Giving Back:
 Our students learn about the importance of giving back through myriad opportunities to perform community service, and, as many of these projects are brought under the umbrella of the Dulwich International Schools Foundation, their opportunities will expand further.
Relationships:
 Our network strengthens community bonds. Students from different Dulwich College International schools may get to know each other one year through a group event, and find themselves classmates the next, when one of them has moved from, say, Dulwich College in Singapore to Dulwich College Shanghai. 
Leadership and innovation
Our network attracts leading and innovative academic leaders. The Dulwich College International Schools Team supports the academic teams at each of our schools, giving them the advantage of their specialist knowledge, ensuring consistency in the content and quality of our teaching, and spreading innovations they observe at one school throughout the group.To find out more about Dulwich College International, visit
www.dulwich.org
---
The APAC Guide to Education & Schools is designed to help relocating parents make informed education choices.
Employers: Access the free digital guide here.
Relocation professionals: Access the free digital guide here. 
Parents: Access the free digital guide here.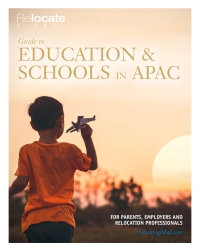 APAC Education Guide 2017
 For volume options, co-branded editions, digital or online licence agreements and advertising opportunities call Ali Pettitt on +44 (0)1892 891334 or email 
ali@relocatemagazine.com
---
For related news and features, visit our Education & Schools section.Access hundreds of global services and suppliers in our Online Directory
Get access to our free Global Mobility Toolkit
© 2017. This article first appeared in the 2017 edition of the Guide to APAC Education & Schools, published by Profile Locations, Spray Hill, Hastings Road, Lamberhurst, Kent TN3 8JB. All rights reserved. This publication (or any part thereof) may not be reproduced in any form without the prior written permission of Profile Locations. Profile Locations accepts no liability for the accuracy of the contents or any opinions expressed herein.