Pathways Schools India – In praise of adaptability
To keep up with a fast-changing world, we must prepare children to meet the challenges and advantages that come with it, says Dr Sarvesh Naidu, executive director of Pathways Schools India.
 The various school curricula and systems should be able to help our children to become truly global citizens and understand the issues that the world faces today.
Schools providing connectivity to a mobile population
Schools need to become the nerve centres through which children relate to, and connect with, the community around them.While national curricula remain at the root of schooling systems in countries around the world, schools are now preparing to offer more diverse and flexible education that matches the aspirations of students and shapes them to face the evolving global environment and remain connected with advancements in technology, frequent mobility, and varied cultural and social norms.
Relocation and the effects on children
These days, relocating has become an increasing norm. Travelling and relocating bring with them the inevitable excitement of 'discovering oneself' in a new environment. This includes familiarisation with a new language or culture, settling in to a new home, making new friends, adjustments to an unfamiliar climate and cuisine, and so on.But change also brings its share of stresses, and it is common to feel nervous or stressed about starting a new school. In the end, success comes down to adaptability.Change actually contributes positively to children's learning, since it helps them to become resilient and creative. Adequate information about schools, available through websites, helps children to settle in to the new environment with pre-awareness. Research into different school systems, curricula and cultures helps them to adjust faster, as does seeking recommendations from friends and colleagues.One big advantage of relocation is the opportunity it brings for realignment with a child's strengths and interests. It is a fact that, when parents get involved and help children prepare for the changes, their children settle in faster.
---
Related articles from our education guides:
---
What to look for in an international school
So, look first at your child's evolving strengths. Then work out which school's ethos and curriculum would complement them. Location does play an important role, but we should overcome the urge to find a neighbourhood school if one located further away could add value to the child's overall development. Remember, children enjoy bus and car journeys more than adults!Finally, do not just look for a like-for-like institution. Every move should add to the child's adaptability, emotional and passion quotient, and open-minded development, including acceptance of local trends and cultural norms.
After all, a happy child makes happy parents.In modern times, as the saying goes, the world is one family.
Find out more about Pathways Schools India, here.
---
The APAC Guide to Education & Schools is designed to help relocating parents make informed education choices.
Employers: Access the free digital guide here.
Relocation professionals: Access the free digital guide here. 
Parents: Access the free digital guide here.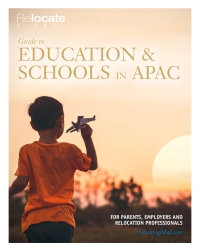 APAC Education Guide 2017
 For volume options, co-branded editions, digital or online licence agreements and advertising opportunities call Ali Pettitt on +44 (0)1892 891334 or email 
ali@relocatemagazine.com
---
For related news and features, visit our Education & Schools section.Access hundreds of global services and suppliers in our Online Directory
Get access to our free Global Mobility Toolkit
© 2017. This article first appeared in the 2017 edition of the Guide to APAC Education & Schools, published by Profile Locations, Spray Hill, Hastings Road, Lamberhurst, Kent TN3 8JB. All rights reserved. This publication (or any part thereof) may not be reproduced in any form without the prior written permission of Profile Locations. Profile Locations accepts no liability for the accuracy of the contents or any opinions expressed herein.