Awards Winner: Best HR or Mobility Initiative
The winner of Best HR or Mobility Initiative was awarded to to DXC Technology for its award-winning, new global mobility operating model and programme.
Holly Creed, DXC Technology
Award Winner: DXC Technology 
DXC Technology's UKI and Europe Global Mobility team's win in the Best HR, Talent Mobility or Initiative category is proof that good outcomes can come out of complexity when you have a determined and knowledgeable team. The IT services company's award-winning new global mobility operating model and programme was created following the merger of CSC and the Enterprise Services business of Hewlett Packard in April 2017. Faced with the challenge of designing and delivering a fit-for-purpose programme for the brand-new business, while continuing to support hundreds of existing and new assignments transitioning from legacy programmes, DXC's team had a golden opportunity to ensure global mobility was a true strategic partner. Now, all the team's activities are ultimately geared to supporting client revenue growth and assignee career development."For years, the DXC Technology Global Mobility Team did not have the opportunity to create the ideal operating model," says Holly Creed, global mobility manager. "But by aligning our vision and practices to company objectives, and by building a strong business case, we gained the support of senior leadership to deliver an industry-leading programme focused on cost optimisation and employee experience."
Aligning Talent and Mobility 
DXC's vision for its new approach is based on multiple pillars, with a strong focus on:
 Maximising the impact of mobility expertise by combining positive 
attributes of the old approach with new features 

Consistency
A support network of exemplary global vendor services, which provide cost- and time-efficient solutions, and offer employees and DXC exemplary service. 

One of the overarching goals of DXC's approach alongside cost optimisation is to tie mobility into talent and employee experience more strongly. Today, DXC Global Mobility regards an assignment as an investment and a critical step for individuals' career paths through partnering early with projects. This approach has now been adopted by other mobility teams worldwide to enable effective talent and resource management.This critical talent focus is reflected in the redesigned policy suite framework, which now incentivises employees to accept assignments and continue their careers with DXC, as opposed to a competitor. The UKI and Europe team have also centralised their work to increase transparency and consistency in policy application and guidance.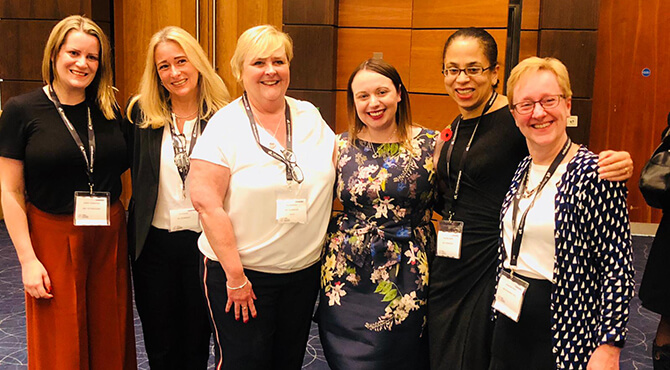 Above: DXC team
Working in Partnership with Providers 
Building this new mobility programme meant the DXC team could start with a blank sheet for how it works with its supply chain. This has benefited the whole organisation.Holding true to their vision and applying all their expertise, Holly, Anna Diamond, Anu Agrawal, Christine Prior, Jo Stewart, Kay Ironside and Pauline Joseph pioneered new processes and documentation for RFPs and RFIs.Testament to this approach and the additional value excellence in global mobility can bring the wider business, DXC Global Mobility has been commended by external service providers and seen other business departments adopt their best practices.
Delivering Cost Optimisation and Increased Retention 

Sue Shortland, one of the judges on the panel, praised DXC for delivering impressive cost savings and its focus on retention – a particular challenge during times of significant organisational change. "DXC's dynamic approach to global mobility programme design has not only resulted in cost savings, but it has also enhanced employees' mobility experience," said Shortland . "An impressive achievement that demonstrates a highly proactive approach to change management."Shortland added, "The global mobility team are to be congratulated for pursuing the development and implementation ofa new operating model and programme. To date, this has brought in some cost savings, clearly demonstrating the added value of this initiative and prudent resource management."By working closely with relevant stakeholders and promoting transparency, this has resulted in employees accepting assignments to further their careers and contribute to talent growth within this firm."Accepting the award, Holly said, "It means so much to win this Relocate Award. It has been a two-year journey for us within the global mobility team. Recognition like this shows we're on the right track. It really means a lot to us all."
www.dxc.technology
©2023 Re:locate magazine, published by Profile Locations, Spray Hill, Hastings Road, Lamberhurst, Kent TN3 8JB. All rights reserved. This publication (or any part thereof) may not be reproduced in any form without the prior written permission of Profile Locations. Profile Locations accepts no liability for the accuracy of the contents or any opinions expressed herein.