Tower Hill: the perfect location for access to financial services
Responding to London's central role as a hub for business and finance, Four Seasons Hotel London at Ten Trinity Square has opened a suite of luxury residences as part of its inventory in the City of London.
The residences are designed to provide a home-away-from-home experience for C-Suite and ultra-high net worth globally mobile professionals and families who are looking for more space and flexibility than a hotel room, on a short-to-longer term basis. With spaces much larger than any other serviced apartment provider in London, the residences provide ample space for living and entertaining where guests can relax, entertain and do business as if at home. The residences can also be booked as a venue for intimate conferences, workshops and a place to broker deals in private.
For global assignees who plan to settle in the UK, but need time to find suitable accommodation, the residences are spacious enough to accommodate a spouse and family, with a wealth of facilities available to suit all. Located in the very heart of London, they are an ideal base for sightseeing – just a short walk from the Tower of London, Tower Bridge and St Paul's Cathedral – and with easy access to areas such as St Katherine's Dock for dining and entertainment. 
Ten Trinity Square: one of the UK's finest architectural landmarks
Located in London's most historic neighbourhood, Ten Trinity Square has long been regarded as one of Britain's finest architectural landmarks, recognised as a Grade II* listed building. Originally opened in 1922, this was the headquarters of the Port of London Authority. In the peak days of the Port of London Authority, more than 1,200 people each day came to the building's central rotunda – topped by a magnificent glass dome – to pay port dues. Such was the importance of the building that, in 1946, the General Assembly of the United Nations held its inaugural reception here. Following a six-year, multi-million-pound renovation by Reignwood – and now with the management of Four Seasons Hotels and Resorts – Ten Trinity Square offers a base for relocating professionals looking for discreet temporary accommodation, an extended stay, a family reunion or grand-scale private entertaining. Guests can arrive through the
Four Seasons Hotel
 entrance and make use of all hotel facilities – including three dining outlets, a spa and fitness centre and a private members club – or through other, more discreet private residential entrances. The residences are reached by a dedicated lift and are located between the fourth and seventh floors. Each has been individually designed to the highest standards by Martin Kemp, David Linley, Richmond International or Fox Linton Interiors. Options range from one to four bedrooms, in sizes from 164 to 447 m2 (1,765 to 4,810 sq. ft.). Select units offer fireplaces and terraces with spectacular views over the Tower of London, Tower Bridge and the River Thames. For globally mobile professionals at CEO and executive level, the residences can provide space to relax and recuperate, do deals, entertain or hold board meetings. Four Seasons in-residence dining service is available around the clock, or guests can have a Four Seasons private chef prepare meals in their own kitchen. In the place where trade between Britain and the rest of the world was born, bringing prosperity and opportunities, nowadays the residences offer discreet accommodation to professionals and executives whose businesses span continents.
Eleonora Bortolato at the Festival of Global People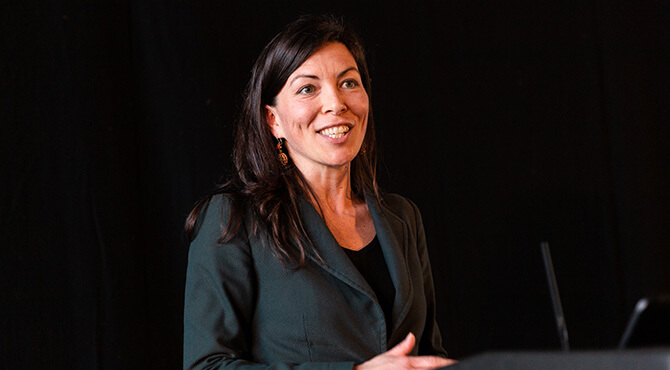 Eleonora Bortolato, Director of Residences, Hotel Four Seasons, Ten Trinity spoke at the Festival of Global People on Wednesday 15 May and shared her wide experience of the luxury hotel market and gave a presentation on
The story behind the Four Seasons Hotel in the City,
in which she explained how the hotel's new suite of residences came to be built.
Watch highlights from the 2019 Festival:
Find out more about the 2019 Festival of Global People and the Relocate Awards which reward the best and most talented in the world of international assignments, talent management and global mobility. 
---
Subscribe to Relocate Extra, our monthly newsletter, to get all the latest international assignments and global mobility news.Relocate's new Global Mobility Toolkit provides free information, practical advice and support for HR, global mobility managers and global teams operating overseas.
Access hundreds of global services and suppliers in our Online Directory
©2023 Re:locate magazine, published by Profile Locations, Spray Hill, Hastings Road, Lamberhurst, Kent TN3 8JB. All rights reserved. This publication (or any part thereof) may not be reproduced in any form without the prior written permission of Profile Locations. Profile Locations accepts no liability for the accuracy of the contents or any opinions expressed herein.